There's been a change in the Homecoming schedule for the week of September 27-30. On Tuesday, September 28, the sweetheart/court presentation will be held @ 7pm in the GYM.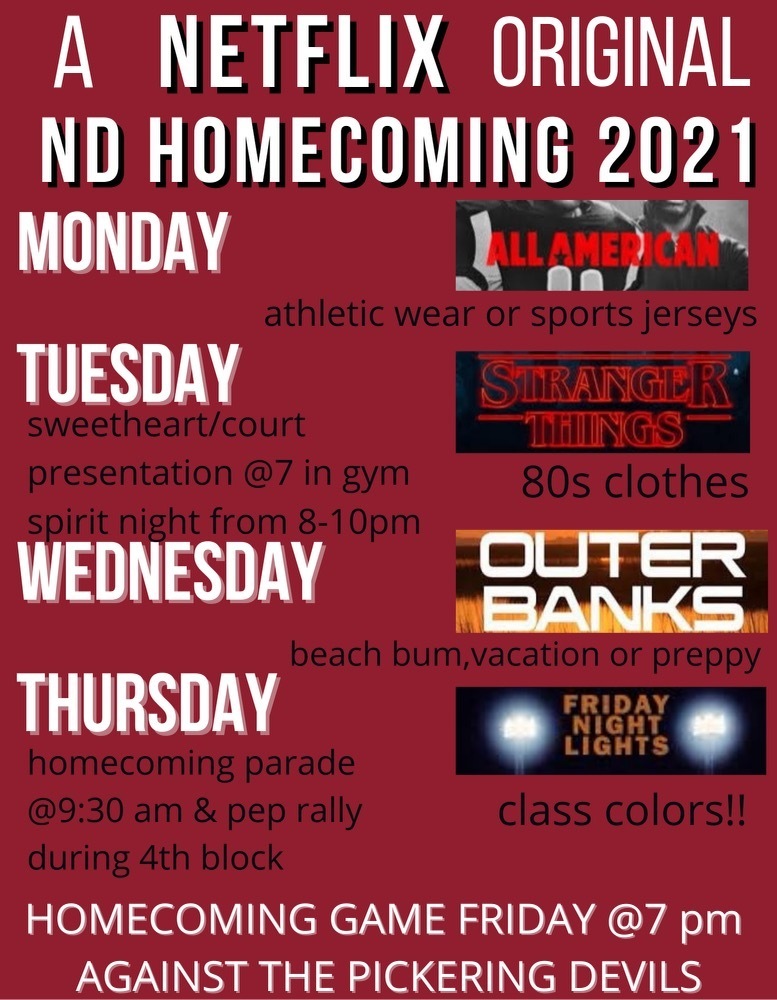 NDHS is excited about Homecoming week! Please see the attached flier. Homecoming week is from September 27 - 30. Game day is Oct. 1 @ 7pm against the Pickering Devils. No school for students on Oct. 1!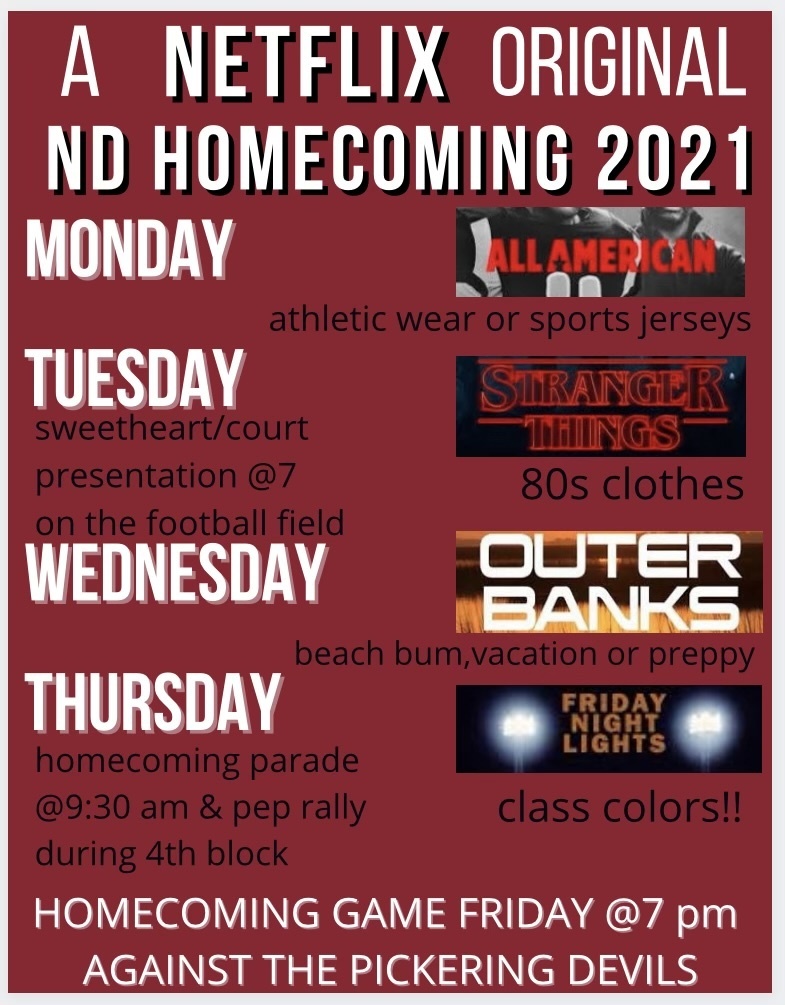 Attention all NDHS Alumni! We want to honor & include y'all in this year's Homecoming festivities. Complete the Form below and share with other alumni to help us organize our events. Registration Form:
https://bit.ly/3nn3kHF


Our 2nd Annual Letter Jacket Presentation will be held on Thursday, September 9, 2021 @ 6:00pm in the NDHS Gym! Masks are required for entry.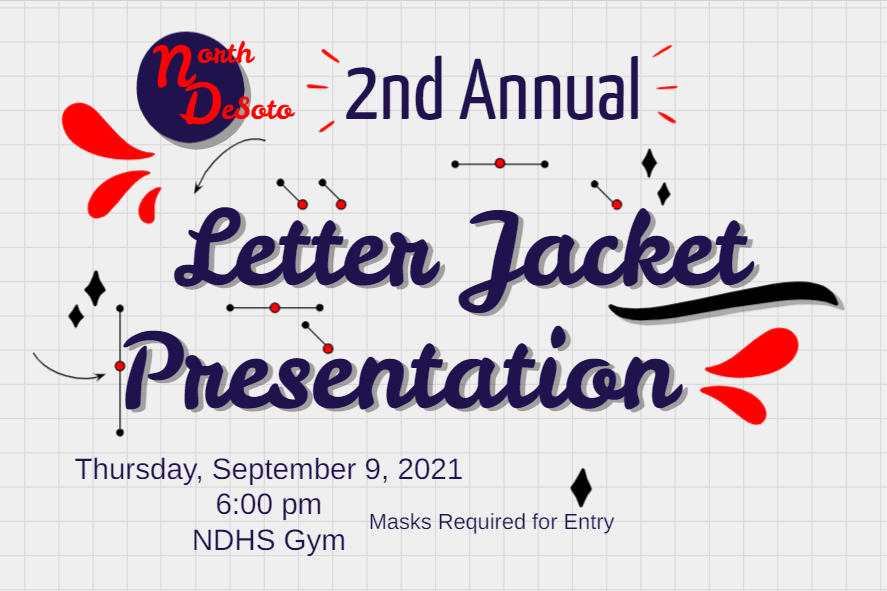 For Friday's home game against Northwood, we will presale tickets on Thursday night from 5:30-7:00 in the home ticket booth. We will sell any left at the gate. Tickets are $8.00 each.

REMINDER: There will be no face-to-face instruction for students Thursday or Friday. Students will participate in remote learning only. Due to the likelihood of power outages in the area during the storm, no "new" learning will be introduced. Students should use this time to catch up on missing assignments and study for upcoming tests. Stay safe! #DeSotoStrong
Download our mobile app to receive notifications with the most current news and latest information on potential school closures as a result of Hurricane Laura.

Desoto Parish Transportation Department is excited to continue the use of the Parent Portal Lite App, Edulog, and are grateful for your patience as we begin the process for this school year. The Edulog App start date will be Tuesday, August 25, 2020. Students should come home with parent information that details the step by step instructions. We feel this app will continue to be a great asset to the Transportation Department, students, and parents of Desoto Parish. If you have any questions please do not hesitate to call the Transportation Department (318) 872-2798.

Just a reminder, Superintendent Corley will host another Google Meet tonight at 6:00 PM. District staff will be on the Meet to answer questions you may have in the chat. Join at
https://meet.google.com/wfn-itsd-kcv

Students in Middle School & High School will return to campus 4 days per week when the state moves to Phase III. Due to bus capacity and group size restrictions during Phase II, bringing middle & high school students back 4 days per week is not possible. #DeSotoStrong

Virtual Students at all grade levels will continue their current schedule Monday-Friday. Only those students in K-5th grade that are on A/B schedule will return to school 4 days a week, Monday-Thursday, beginning Monday, August 17. Students may switch from Virtual Only into the Hybrid Learning schedule at the end of the 9 week period.

Beginning Monday, August 17th, K-5th Grade Students that are on the Hybrid (A/B) model will report to school 4 days per week, Monday-Thursday. Friday's will remain virtual only learning days. Our PreK students will attend 5 days a week. Transportation will be provided Monday-Thursday. Parents of Pre-K students will provide transportation on Fridays while all other students are on a 4 day per week schedule.

Chromebook Password Information-The student password is the Student ID Number. If the Student ID begins with a 0, then drop the zero. Example: 01234567 the password would be 1234567.

Tonight, we will host another Google Meet Session with Superintendent Corley and other District Staff. We will spend time answering your questions you may have as we start the new school year. Join us at our next Google Meet.
https://meet.google.com/vzy-awbo-cxy

Transportation is working diligently to ensure a smooth start for all of our students. We are pleased to be transporting your children to & from school this year. If your students will be riding the bus & you have not been contacted by a Bus Operator please call 318.872.2798.

Don't forget to join Superintendent Corley on his first of a series of Google Meets this week to discuss the district's Strong Start Plan. Tonight's Google Meet will begin at 7:00 PM. We want to hear from you and address any concerns/questions you may have. #DeSotoStrong
NDHS will host a virtual Open House on Monday, Aug. 3rd. To participate, go to our website and click on the Open House Link. It will lead you through the process. The links go live at 5:30. There will be an introduction and Google Form for parents to complete prior to the virtual Meets with teachers @ 6:00 PM. Teachers will be available to meet with you according to the student's assigned block. Schedules were mailed this week. You will access the teacher's Meet from their website on the school page. Parents will want to make sure they have downloaded the Google Meet App prior to Open House.