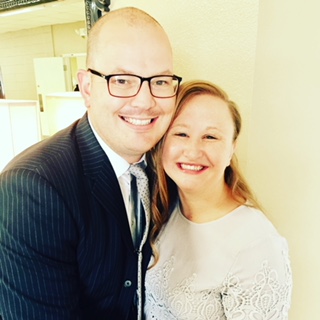 MEET THE SCHOOL COUNSELOR
Hi! My name is Hannah Austin, and I am the school counselor at NDUE. I am blessed to serve the students at this wonderful school.
I was raised in South Louisiana in the small town of Elton, Louisiana. After high school, I received my bachelor's degree & teacher certification from McNeese State University. After several years, I begin to pursue my masters degree in school counseling. I graduated with my masters degree in School Counseling from Lamar State University in May 2017.
I am married to my husband Benjamin Austin. We have been married for 12 years. We have three beautiful children, Sawyer, Bentley, and Ella. We also serve as student pastors at our local church in Shreveport, Louisiana.
My desire to be a school counselor was because I had an amazing school counselor when I was in elementary school. During a difficult time in my life, she provided so much support for me and helped me to be successful Text despite the hard times I was facing. I will never forget her, and I hope that I can be that person for someone else during a time where they need someone to be there the most.
As the school counselor of NDUE, that it what I will strive to do daily.
MY ROLE AS THE SCHOOL COUNSELOR
As a school counselor, my goal is provide the students of NDUE support academically, socially, and emotionally in order to be successful on their education journey. The ways that I will do this is through individual counseling, small group counseling, as well as some opportunities through guidance curriculum.
Individual counseling will be provided on an as need basis. If students are struggling with something that is outside of the expertise of the school counselor, then I will provide outside resources that can help our students get back on the right track.
Small Group counseling groups will be conducted that will pinpoint specific needs of the student body.
If you have questions or concerns about the well being of your child, please don't wait! Contact me as soon as possible, and I will do my best to provide resources to help in anyway that I can!
PARENT SCHOOL COUNSELING REFERRAL
School Counselor Parent Referral Sheet
TEACHER SCHOOL COUNSELING REFERRAL
School Counselor Referral Sheet
ENROLLMENT PROCEDURES
The following items are needed for enrollment:
Birth Certificate

Social Security Card

Immunization Records

Student History (grades, attendance, discipline, etc...)

Proof of Legal Custody (if needed)

Proof of Residency (3 items listed below)
Driver's License with current address (required)

Property Tax records

Closing Papers with bank verifying home purchase

Apartment or Home Lease or Notarized Statement of the Verified Proplerty

Current Utility Bills