Understanding Proficiency Reports
The mission of North DeSoto Upper Elementary is to provide opportunities for students to achieve their personal best, become responsible and productive members of society, and embrace lifelong learning in a positive environment.
RESOURCES: CLICK THE LINK TO VIEW
NDUE Map to Understanding Proficiency Reports
DeSoto Parish Parent Guide to Proficiency Reports
DeSoto Parish: Understanding Your Student's Proficiency Report
FOR MORE INFORMATION
Email us at northdesoto35@desotopsb.com
Call the school to schedule a conference (318) 925-1610
Ask your child's teachers
QUESTIONS, COMMENTS, CONCERNS
If you would like to share questions, comments, or concerns about proficiency reports, contact your child's teacher(s) or email us at northdesoto35@desotopsb.com.
PROFICIENCY REPORTS FOR 3RD GRADE STUDENTS
The purpose of Proficiency Reports for 2nd and 3rd grade students is to
to monitor each student's progress on each standard

to communicate specific areas of success and need to parents

for teachers to adjust instruction to meet students' needs
​The benefits of Proficiency Reports include:
more individualized instruction and learning

clearly identified skills and concepts for extra support and extension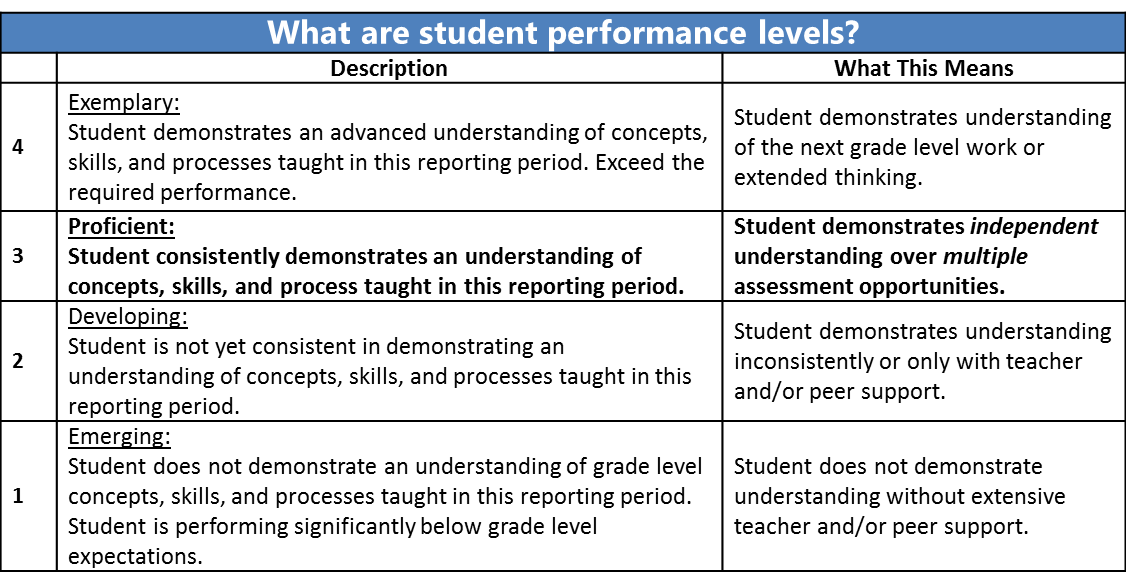 UNDERSTANDING YOUR CHILD'S PROFICIENCY REPORT
Each student receives a score of 4, 3, 2, 1 for each core concept taught for each nine weeks.

N/A will appear in areas that were not assessed in that reporting period.

Core concepts are based upon grade level standards.

A performance level of 3 indicates that a student is performing on grade level on that given concept.

The goal is for all students to reach Level 3-Proficient by the end of the year.

The standards are what students should know and be able to do at the end of the school year.

All third grade teachers use the same or similar assessment items to determine proficiency for each standard.

Teachers meet regularly to ensure consistency from class to class.