Safety of Students, Staff and Visitors
EMPLOYEE AND STUDENT SCREENING AND PROTOCOLS
To help prevent the spread of COVID-19 and reduce the potential risk of exposure to our employees and students, we will be requiring employees and students to complete a self-screening which includes staff taking their own temperature; and verifying they are free from COVID-19 symptoms including:
Cough

Shortness of breath or difficulty breathing

Chills

Repeated shaking with chills

Muscle pain

Headache

Sore throat

Loss of taste or smell

Diarrhea

Feeling feverish or a measured temperature greater than or equal to 100.4 degrees Fahrenheit

Known close contact with a person who is lab confirmed to have COVID-19
All screening information will be kept confidential by the School Administration and the Office of Human Resources. Teachers and staff must report if they themselves have COVID-19 symptoms or are lab- confirmed with COVID-19, and, if so, they must remain off campus until they meet the criteria for re-entry. Additionally, staff must report if they have had close contact with an individual who is lab-confirmed with COVID-19, and, if so, must remain off campus until the 14-day incubation period has passed.
HANDOUT: SELF-SCREENING PROTOCOL
Parents must ensure they do not send their student to school if the child has COVID19 symptoms or is lab-confirmed with COVID19, and instead should opt to receive remote instruction until the conditions for re-entry have been met. Parents may also opt to have their child receive remote instruction if their child has had close contact with an individual who is lab- confirmed with COVID19 until the 14-day quarantine period has passed.
VISITOR RESTRICTIONS
All DeSoto Parish Schools will limit normal visitation to our campuses at this time. Only DPSB employees are allowed on campus. All individuals entering the building will be required to wear face coverings. Individuals proceeding beyond the reception area will be subject to the following guidelines: visitors will be temperature screened, virtual meetings will be available when possible, visitors and staff will maintain physical distancing for meetings in conference areas.
HEALTH PROTOCOL
If an employee becomes ill at work or exhibiting symptoms of COVID19 at work, they will be asked to leave work and go home or to the nearest health clinic.
Employees returning to work from an approved medical leave should contact HR. You may be asked to submit a healthcare provider's note before returning to work.

TESTED POSITIVE FOR COVID-19 or SUSPECTED WITH COVID-19
Any individuals who themselves either: (a) are lab-confirmed to have COVID19; or (b) experience the symptoms of COVID19 must stay at home throughout the infection period, and cannot return to campus until the school system screens the individual to determine any of the below conditions for campus re-entry have been met:
Return to work/school criteria:
At least 10 days have passed since symptoms first occurred
You have improved in respiratory symptoms (cough, shortness of breath, etc.); and
At least 24 hours have passed since recovery (no fever without the use of fever-reducing medications); and
If you have symptoms that could be COVID19 and do not get evaluated by a medical professional or tested for COVID19, it is assumed that you have COVID19 and may not return to work/school until the three criteria listed above have been met.
If the individual has symptoms that could be COVID19 and wants to return to school before completing the above stay at home period, the individual must either (a) obtain a medical professional's note clearing the individual for return based on an alternative diagnosis or (b) receive confirmation that they are free of COVID via acute infection tests at an approved COVID 19 testing location.
IDENTIFYING POSSIBLE COVID19 CASES ON CAMPUS
DPSB will immediately isolate any student who shows COVID19 symptoms while at school until the student can be picked up by the parent or guardian.
DPSB will clean the areas used by the individual who shows COVID19 symptoms while at school (student, teacher, or staff).
Students who report feeling feverish will be given an immediate temperature check to determine if they are symptomatic for COVID19.
PRACTICES TO RESPOND TO A LAB CONFIRMED CASE IN THE SCHOOL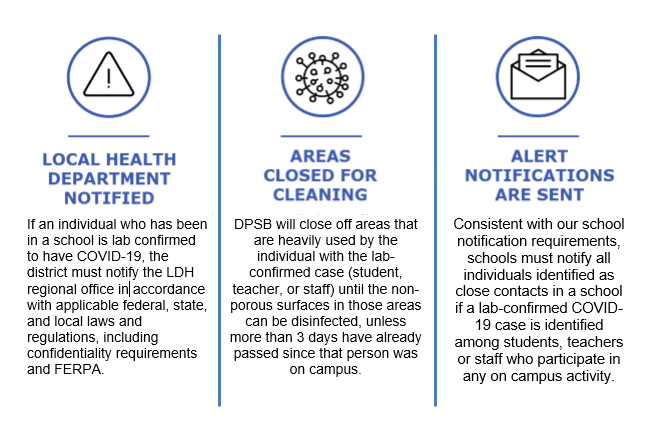 GUIDANCE IF EXPOSED
While we all hope to avoid exposure to illness from COVID19, we are prepared for that possibility. If you or someone you have been in contact with has been exposed to the virus, our first concern is for your health and safety and those around you. In this rapidly changing situation, healthcare providers should have the most up-to-date information from the CDC.
Please do the following:
1. Quarantine yourself in a specific room away from others in your home
2. Contact the following (in order of priority), let them know you have been exposed to COVID19, then follow their instructions.
Your healthcare provider

DPSB's HR department

Your supervisor
3. Your supervisor will work with HR to determine appropriate next steps.
4. Student/Faculty with COVID-19 symptoms* or a positive COVID-19 test may end self-isolation when:
At least 10 days have passed since symptoms first appeared and

At least 24 hours have passed since the resolution of fever without the use of fever reducing medications and

Other symptoms (e.g., cough, shortness of breath) have improved

If asymptomatic, it has been at least 10-days since positive test collection date
SOCIAL DISTANCING
Social distancing is an effective way to prevent potential infection. DPSB employees, students, parents, and visitors should practice staying approximately 6 feet away from others and eliminating contact with others to the maximum extent possible.


CLOSE CONTACT (DEFINED)
This document refers to "close contact" with an individual who is lab-confirmed to have COVID- 19. Close contact is determined by an appropriate public health agency. For clarity, close contact is defined as:
Being directly exposed to infectious secretions (e.g., being coughed or sneezed on while not wearing a face covering); or

Being within 6 feet for a cumulative duration of 15 minutes or longer, while not wearing a face covering
If either occurred at any time in the last 14 days at the same time the infected individual was infectious.
Individuals are presumed infectious at least two days prior to symptom onset or, in the case of asymptomatic individuals who are lab-confirmed with COVID-19, two days prior to the confirming lab test.

It may be impractical for students to wear a face covering while participating in some athletic or other extracurricular activities. When it is impractical for students to wear face coverings during those activities, students, teachers, staff, and visitors will wear face coverings when entering and exiting facilities and practice areas and when not actively engaging in those activities. Schools may, for example, allow students who are actively exercising to remove face coverings, if they maintain at least six feet of distance from other students, teachers, and staff who are not wearing face coverings.
Students will need to provide their own personal face coverings. A face covering is required for all staff and students grades 3-12. Students and staff may remove their masks once they are in the classroom if proper social distancing can be achieved. Staff and students will always wear face coverings when they enter and exit the building and as they transition through the halls.
For students in PK-2, the determination of whether wearing a mask is developmentally appropriate is up to the student's parent or guardian.
It may not be developmentally appropriate for some other students, including some students with disabilities, to wear masks.
Gloves: Touching your face with contaminated hands, whether gloved or not, poses a significant risk of infection. Wearing gloves does not diminish the need to wash your hands. Please remember to wash your hands properly as it is the number-one defense against any virus. Additionally, the proper removal of gloves reduces the risk of being exposed to contamination.
Please note that social distancing should still be practiced even with the use of gloves and face coverings.
In addition to using PPE, please remember to:
Wash your hands often with soap and water for at least 20 seconds.

Use hand sanitizer with at least 60% alcohol if soap and water are not available

Avoid touching your eyes, nose, and mouth

Cover your mouth and nose with a tissue when you cough or sneeze or use the inside of your elbow

There will be limited access to certain workspaces to reduce exposure to risks and ensure employee safety. Workspace usage is as follows:
Capacity – DPSB will be monitoring the number of employees in the offices while the risk of infection exists and begins to diminish.

Conference Rooms – Certain conference rooms will be closed until further notice. Signage indicating closure/capacity limits will be placed on conference room doors. All meetings are required to use Google Meet as a virtual option even for employees in the office or school.

Breakrooms or Teacher Lounge/Multipurpose Room –These spaces could be closed for use until at different times of the year. This includes the use of shared appliances such as coffee machines, refrigerators, and microwaves.
FACILITIES CLEANING
The safety of our employees and students is our primary responsibility. Upon reopening, our schools have been completely cleaned and disinfected and we will continue to adhere to all necessary safety precautions. In addition to the deep clean off the office and school before employees and students return, the cleaning steps outlined below are to be taken to disinfect workplace surfaces, chairs, tables, etc. to protect employees and reduce the risk of spread of infection. We will require employees to maintain this safety standard by continuously cleaning and disinfecting based on the frequency stated below.
GENERAL DISINFECTION MEASURES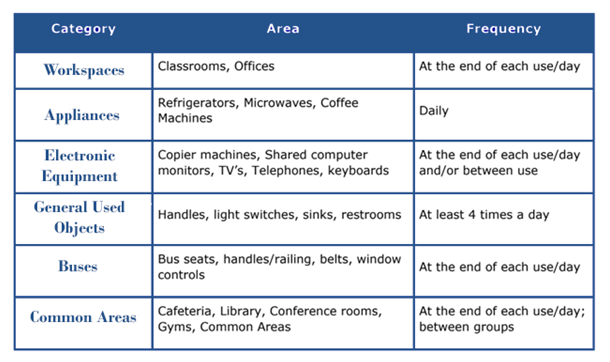 General measures should be followed regularly. DPSB will institute more frequent cleaning practices, including additional cleaning by custodial staff, as well as provide the opportunity for children to clean their own spaces before and after they are used, in ways that are safe and developmentally appropriate.
DEEP CLEANING AND DISINFECTION PROTOCOL
Deep cleaning is triggered when an active employee or student is identified as positive for COVID19 based on testing. Deep cleaning should be performed as soon as the confirmation of a positive test, as practical. While the scope of deep cleaning is presumed to be the full site, sites may reduce the footprint to be deep cleaned if there is sufficient rationale to do so, and they gain consensus of the administration.
All areas that were heavily used by an individual with a lab-confirmed case (student, teacher, or staff) until the non-porous surfaces in those areas can be disinfected, unless more than 3 days have already passed since that person was on campus.
FOOD DELIVERY
Bringing or sharing refreshments during meetings is prohibited to limit the potential risk of contamination. We ask that there be no food delivered and that food be kept at your assigned space.
STUDENT AND TEACHER GROUPINGS
Where feasible without disrupting the educational experience, DPSB will encourage students to practice social distancing.
Student desks will be placed at a minimum of six feet apart to the maximum extent possible.

In classrooms where students are regularly within six feet of one another, DPSB will plan for more frequent hand washing and/or hand sanitizing and ensure static grouping.
ENTRY AND EXIT
Campuses will plan for entry, exit, and transition procedures that reduce large group gatherings (of students and adults) in close proximity. Administration will provide guidance to students to enter one at a time and wait six feet apart outside the entrance. Parents are required to remain outside during drop off and dismissal.
STUDENT ARRIVAL AND DISMISSAL
We ask that parents avoid early drop offs in the mornings. Students will arrive by car or bus and will enter one of the main entrances. Parents/guardians will not be able to leave their cars or enter the building. We ask that parents make appointments and if necessary, return at a time when students and staff are inside the classrooms. Staff and students (3-12 grades) will use face coverings upon entry and in transition until arrival to a classroom and where appropriate social distancing can be achieved. At dismissal, students will be staggered in groups to holding locations or taken to buses in stages to decrease the risk of potential crowding outside at dismissal time. Parents who wish to pick up their student before the end of the school day will need to call ahead so students can be sent or accompanied to parent vehicles upon arrival.
SAFETY SUPPLIES
The district has purchased several safety items:
Touchless Forehead Thermometers

Face Masks

Nitrile Powder Free Gloves

Plexiglass Countertop Shields-offers protection from sneezes and coughs during person-to-person interaction at front desk station.
Along with a large stock of district purchased PPE, The Governor's Office of Homeland Security and Emergency Preparedness has supplied the DPSB with the following:
6,000 cloth masks for students and faculty members

2,000 disposable masks for visitors or students/faculty who may forget their mask

30 thermometers
PRACTICES TO MITIGATE THE LIKELIHOOD OF COVID19 SPREAD INSIDE THE SCHOOL
DPSB will have hand sanitizer and/or hand washing stations with soap and water in all classrooms and commons areas.

Students, teachers, staff, and campus visitors will be encouraged to sanitize and/or wash hands frequently.

Ensure each school has an adequate supply of soap, disinfection, hand sanitizer, paper towels, and tissues

Ensure each school has an adequate supply of PPE.

Touchless thermometers on-site for employee and student screening

Students, staff, teachers, and visitors should be encouraged to sanitize and/or wash hands frequently. DPSB encourages supervision of younger students as students engage in handwashing for at least 20 seconds two times a day, in addition to washing hands after using the restroom and before eating.

For students in grades PK-2, the determination of whether wearing a mask is developmentally appropriate is up to the student's parent or guardian.

VISITORS ON CAMPUS
The safety of our staff and students remains the district's primary concern. To help prevent the spread of the virus and reduce the risk of exposure to our staff and students, we are conducting a simple screening questionnaire. Participation is important to help us take precautionary measures to protect you and everyone in the building. DPSB will restrict visits to the school to only those essential to school operations. VISITOR SELF-SCREENING FORM / Self Declaration by Visitor
CAFETERIA AND MEAL PERIODS
In most cases, meals will be delivered to classrooms and or distributed through a grab and go style service line. Students may bring their own meals.
Cafeteria staff will be trained in COVID-19 safety protocols. High surface areas will be disinfected between service periods and use.
Schools may also utilize outdoor spaces (weather permitting) and common areas of the buildings to allow for additional dining space.
MODIFIED ARRANGEMENTS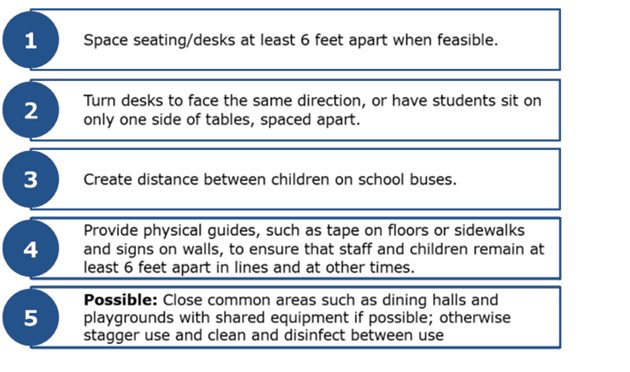 TRANSPORTATION
Student Transportation supports student access to the educational environment at school. Without it, many students will be unable to attend school. As a logistical operation, the primary issues determining a course forward are the constraints placed upon DeSoto Parish Schools transportation departments such as: ride times, school start and dismissal times, the age range of the students transported together, and now, social distancing and cleaning requirements. DPSB reserves the right to make different considerations depending on the situation in their district.
Basic Rules of Operation
Seating and Social Distance

-50% of normal capacity – Phase II

-75% of normal capacity – Phase III

Symptom Monitoring and Personal Hygiene

Operational Standards

Seating: 50% of manufacturer's seating capacity within feasibility constraints

-66-Passenger – 33

-77-Passenger – 38

-84-Passsenger – 42

Social Distancing (to the maximum extent possible)

Seating charts: Mandatory; backed up by video for contact tracing purposes

Load from back to front … Unload front to back
Symptom Monitoring and Personal Hygiene
Social distance at bus stop

Passengers should engage in hand hygiene upon entering bus

Masks must be worn by staff & students (3rd-12th)

Masks are highly recommended for PreK-2nd grade
Operational Standards
Hand Sanitizer Dispensers installed on all buses

Stagger unloading of buses for 6 feet distancing while entering school

Unloading / loading procedures

Clean High Touch Areas (HTAs) after each group's use

PPE: gloves, masks, wipes, dual cleaner/disinfectant

Deep clean first and when additionally directed

AM / PM Procedures
Bus drivers are required to wear masks at all times while in the presence of students. All drivers are required to self-screen for COVID-19 symptoms prior to morning and afternoon routes.

CHILD NUTRITION SERVICES
For DeSoto Parish students, nutritious meals at school are not simply conveniences; they are critical safety nets to support physical, mental, social, and emotional health and well-being. All students should have access to school meals and adequate time to consume them. District and school officials are encouraged to collaborate with the school nutrition supervisor and staff to determine which meal options best meet the nutritional needs of students in an environment that promotes optimal social distancing and personal hygiene practices as a means of supporting optimal academic success.
Phase 1: Emergency Feeding Grab & Go Pickup at centrally located sites:
Phase 2: Grab and Go – pick up meals and eat in classrooms
Breakfast – students will pick up breakfast from kiosk/table at centrally located entrance.

Lunch – students will come through cafeteria lines to pick up meals or have meals delivered to their classroom depending upon the feasibility at each location. Social distancing in lines will be required.

Students on "remote days" will be provided meals for the days that they are not "in-person." The dissemination of these meals will be determined collaboratively with the CNS Supervisor and the school principal.
Phase 3: Hybrid: Grab & Go and some seating in cafeteria & common areas
Cafeteria & common area seating will be determined per school facility.

Social distancing will be required.

Sanitizing is required between groups/classes, so extended and staggered lunch serving times are necessary.
SOCIAL-EMOTIONAL WELL-BEING OF STUDENTS AND STAFF
District staff will develop videos and resources for parents and teachers to access through the Parent University Web Portal on the DPSB website. School counselors will work with students individually or in small groups to address any well-being needs. The counselors will develop a student and staff survey. This survey will allow for individuals to give feedback on how to develop a stronger outreach program and support their needs.
STAFF AND STUDENT TRAINING
Pre-Return to School Training - Presented remotely to staff to ensure understanding and preparedness to align with this manual

First Day Training/Orientation - Align local protocols and procedures with this manual; meeting area must adhere to social distancing protocols or present via Google Meet. On the first day of school, DPSB will provide instruction to students on appropriate hygiene practices and health/safety protocols.

Cleaning & Disinfecting Protocols - Disinfection methods, comprehensive cleaning training. It is very important that all employees understand the safety requirements, protocols, and expectations to ensure everyone and their communities stay safe and prevent the spread of the virus.
Content Covered:
All training topics can be reinforced with signage in the buildings.

School/District checklists

Response Teams

Disinfection Measures

Transportation

Isolation protocols

On site health screening

Daily self-screenings

Visitors

Cleaning Crew Protocols