Academics & Home-Based Learning
The DeSoto Parish School Board has invested hundreds of hours in developing a comprehensive Strong Start Plan. District and School level administrators focused on organizing and developing systems for the district's reopening. Areas of primary focus were:
1. Optimizing Professional Development Opportunities
Tasks: Develop a plan for professional development for our staff for:

-The professional development will consist of technology-based training, such as Google Applications for Education through Cluster Learning.

-The District has also committed to Ruby Payne training.
2. Optimize Instructional Services
Re-entry Plan: All students will participate in a 4-week Bridge program through their WIN (Whatever I Need) period to focus on new learning of prerequisite skills.

Instructional Gaps: Data from the baseline assessment will be used to determine where the gaps are with each student.
Scope and Sequence: Knowing that extra instructional time may be needed to address learning needs throughout the year, the DPSB has revised the Scope & Sequence for each grade level. The suggested modifications, which include moving or even skipping certain modules and units, maximize time with the critical work of the grade level while allowing time for review and reteaching. We have also marked the major standards as they appear in each module, to help teachers make informed decisions about pacing as the school year progresses.
3. Optimize Facility, Safety, and Security
Develop the re-entry plan of students and staff in the building and outline all safety protocols. These plans are outlined in the plan book.
4. Optimize All Available Resources
Ongoing efforts are being pursued by our Technology department to partner with our community to expand internet access to underserved areas.
5. Optimize Student Services
Develop better systems to address the social-motional ell-being of our students.

Develop Parent University Website

Utilize a Universal Screener to identify students needing additional social-emotional support
GUIDING PRINCIPLES FOR DISTANCE LEARNING
This framework for distance learning is guided by the mission of DeSoto Parish Schools,
"DeSoto Serves...to care for our students, ensure their learning, and celebrate their graduation as citizens prepared to transform their dreams into realities." To this end, we aspire to craft distance learning experiences that encourage community, connectedness, personalization, academic growth, and equity.
EQUITABLE ACCESS
Access to Technology
All students in DeSoto Parish will receive a school issued Chromebook. In grades PK-2, students will be issued two Chromebooks. One will stay at school and the other will remain at home. Please note that due to current supply chain issues, students may start the year with one Chromebook that will need to be brought to school each day and will be assigned a second device to remain at home at a later date.
In grades 3-12, students will need to bring their fully charged school issued Chromebook to school each day. All students will be provided a stylus and earbuds.
Access to Internet
Students will connect to the school internet/Wi-Fi on the A/B day that they are on campus. DPSB has partnered with local businesses and churches to provide internet access throughout the community. The internet provided by these partners may be accessed with a DPSB user account. DPSB will continue to expand Wi-Fi capabilities throughout the parish. The map will continuously be updated to reflect these access points. Click here for a map of local businesses that will provide internet access.
Technology Support
Families who need IT support with a DeSoto Parish issued device will be able to request support by following the steps outlined.
Step 1: If parents/students need technical support, they should immediately reach out to the school helpdesk or hotline for assistance on our School Help Desk Website. Responses to parent questions should be returned within 24 hours.

Step 2: If the issue cannot be solved by the school helpdesk, the school level helpdesk team will create a technology work order to elevate the issue to the district technology department.

Step 3: If required, a replacement device will be issued by the school while the device is being repaired.
DISTANCE LEARNING PLATFORMS

DISTANCE LEARNING GUIDELINES
Community Connectedness
Students with low/no connectivity will connect to the internet when on the school campus on their assigned A/B day. At that time, they will gain an understanding of assignments for the week/day and turn in assignments as required. When students are home, they may work on these assignments offline. Students may also complete and turn in assignments by connecting to the internet via community connection points. (More information coming soon)
ROLES AND RESPONSIBILITIES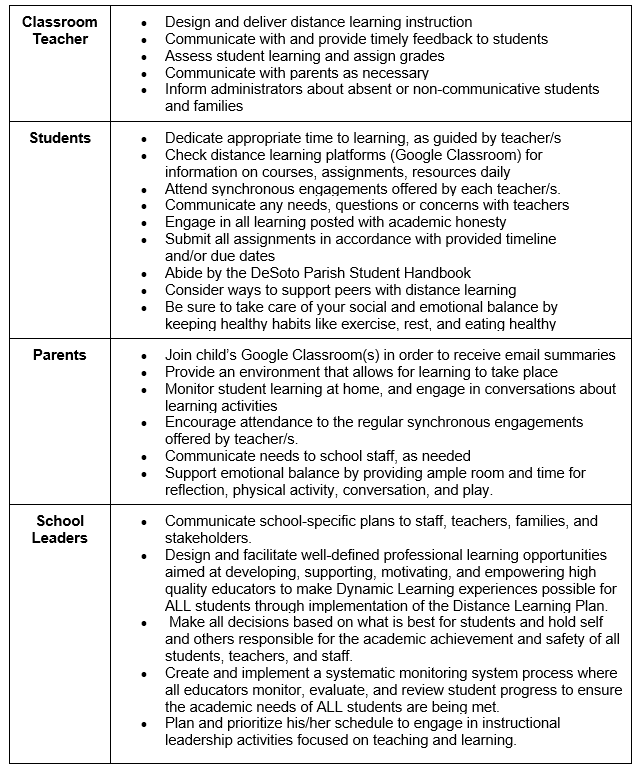 SPECIAL EDUCATION SUPPORT
Special education teachers, paraprofessionals, and related service providers will work collaboratively with general education teachers to provide support and accommodations needed for each student to access the curriculum. Delivery of services will be prescribed per the students' Individualized Education Plan (IEP).
PARENT COMMITMENT
Parents will be asked to commit to either on campus or remote instruction no earlier than two weeks before the start of the school year. DPSB may choose to limit the student's return to an on-campus setting at the end of a grading period. The district will not require a student to remain in remote instruction for more than one grading period. However, a student who begins receiving remote instruction as a result of staying at home to isolate from COVID19 exposure should be permitted to return to campus at the end of their isolation period, as opposed to the end of a grading period.
ELECTIVES
Some elective courses may have coursework that can only reasonably be completed in person, even if some components of the course could be taught virtually (e.g., welding). These courses will be made available to students who are otherwise learning virtually, although the district can require a student to come to campus to complete a required assignment or project for an elective course if the course requires assignments that cannot be reasonably completed remotely. Some courses may require a student to obtain equipment from campus to complete coursework virtually. DPSB will communicate which courses have on campus requirements before the start of the course that failure to complete the required on-campus assignment could cause the student to not be awarded course credit. This notification will ensure students have an option to select courses that can be completed remotely if desired. In this case, it is appropriate for students whose parents wish for them to remain fully remote to choose different electives that can be satisfied in a fully remote setting.
GRADING POLICY
Grading and Attendance
To receive credit and attendance for the courses for this school year students are expected to complete all assignments. The grading policy is located in our campus handbooks. The grading policy will be the same for distance learning as it is for on-campus learning.
Completion Protocols
Students not making progress, not completing academic assignments, or opting not to participate during the school year, will be in danger of course failure and being retained. For promotion to the next grade level, students will need to have completed the requirements outlined in the DPSB grading policy. A School Building Level Committee will be convened for any student at risk for being retained.
RECEIVING AND RETURNING STUDENT WORK IF DISTRICT CLOSES
In the event that school has to close in 2020-2021, we will follow the guidelines below for receiving and returning student work.
The district will use Google Classroom for grades K-12. Google Classroom and email will be our main communication method for parents to be able to contact the classroom teachers.
If the family is able to access the internet, effectively all activities should be done online, which will eliminate any public health risk associated with providing instructional support.
ATTENDANCE AND ENROLLMENT
For detailed information concerning attendance requirement visit our DeSoto Parish Guide for Distance Learning during the 2020-2021 School Year.