I. DPSB Guiding Principles for Distance Learning
This framework for distance learning is guided by the mission of DeSoto Parish Schools which states, " DeSoto Serves...to care for our students, ensure their learning, and celebrate their graduation as citizens prepared to transform their dreams into realities." To this end, we aspire to craft distance learning experiences that encourage community, connectedness, personalization, academic growth, and equity.

Access to Technology
All students in DeSoto Parish will receive a school issued chromebook. In grades PK-2, students will be issued two chromebooks. One will stay at school and the other will remain at home. **Please note that due to current supply chain issues, students may start the year with one chromebook that will need to be brought to school each day and will be assigned a second device to remain at home at a later date.
In grades 3-12, students will need to bring their fully charged school issued chromebook to school each day. All students will be provided a stylus and earbuds. Please click here to see a video on how to login to Chromebook.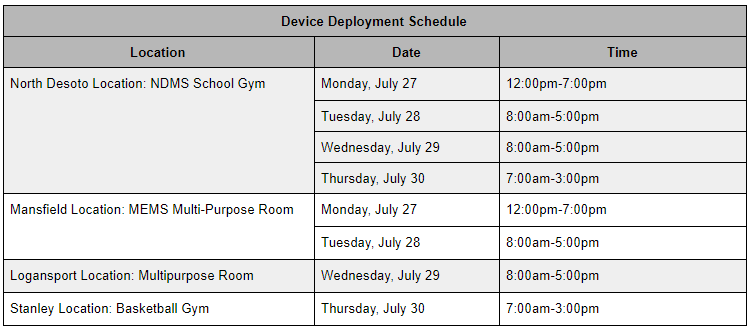 Access to Internet
Students will connect to the school internet/wifi on the A/B day that they are on campus. DPSB has partnered with local businesses and churches to provide internet access throughout the community. The internet provided by these partners may be accessed with a DPSB user account. DPSB will continue to expand wifi capabilities throughout the parish. The map will continuously be updated to reflect these access points. Click here for a map of local businesses that will provide internet access.
Technology Support
Families who need IT support with a DeSoto Parish issued device will be able to request support by following the steps outlined.
Step 1: If parents/students need technical support, they should immediately reach out to the school helpdesk or hotline for assistance. If they submit a query to the helpdesk between the hours of 7:30am-8:00pm, they should expect a response within the same day.

Step 2: If the issue cannot be solved by the school helpdesk, the school level helpdesk team should create a technology work order. The work order should include the students name, grade, school, and teacher. It should also include a contact number, contact email address and a detailed description of the problem they are having with the device.

Step 3: If required, a replacement device will be issued by the school while the device is being repaired.
Special Education Support
Special education teachers, paraprofessionals, and related service providers will work collaboratively with general education teachers to provide support and accommodations needed for each student to access the curriculum. Delivery of services will be prescribed per the students' Individualized Education Plan (IEP).
III. Distance Learning Platforms
IV. Distance Learning Guidelines

V. Roles and Responsibilities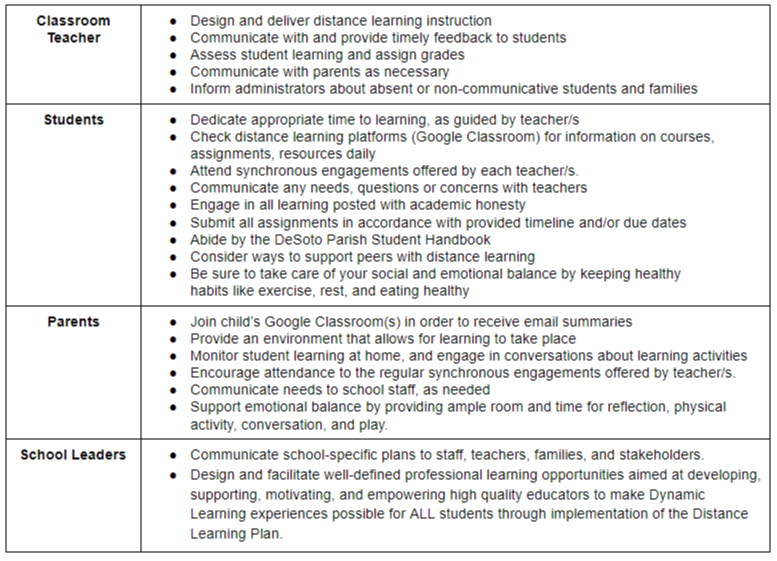 VI. Glossary of Distance Learning Terms
A. Equitable: equal for all
B. Synchronous Learning: a learning event in which a group of students are engaging in learning at the same time virtually
C. Asynchronous Learning: a learning event that does not occur in the same place or at the same time; learning is done independently
D. Learning Platform: an online service that provides teachers, learners, and parents with information, tools, and resources to support and enhance the delivery of instruction.
E. Firewall: a system designed to prevent unauthorized access to or from a private internet network